MLB 2000
SUBWAY 2000 IS OVER!!!
The fire is burning in New York!!!
Yankees win 4-1



Yankees earn right to call themselves New York's team!!!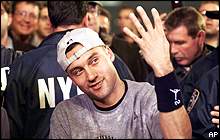 Derek now has his 4th World Series Championship in his 6th year in the league.
Well, suprise, suprise. The New York Yankees win there 3rd straight world series, first time since the A's did it in '72-'74. The Yanks earned the right to paint the town in pinstripes. Derek Jeter blasted a game tying homer, followed by Luis Sojo's unheroic roll of a 2-run single which won the game for the Yanks.


Knoblauch error count!

ESPN
Magazine Description
ESPN
targets young, active men whose lifestyles include watching sports, attending games, and participating in all kinds of athletics. The editorial focus plays off the news and includes what will happen in sports and which match-ups and young players to watch. In addition, the magazine emphasizes the humor and fun of both mainstream and off-beat sports.

Thank you for visiting my site!!!
Feedback is greatly Appreciated. Please, if you have any questions, comments, or suggestions email me at
ChrsRicker2000@go.com
Welcome to my web site.